| | |
| --- | --- |
| UNITED STATES OF AMERICA | |
| COLORADO | |
| Clear Creek County | |
Georgetown Loop Railway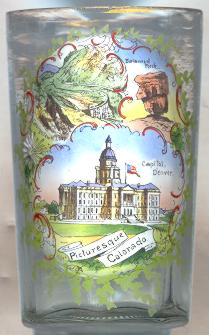 The Georgetown Loop Railway was built as an extension of the railroad from Denver which reached Georgetown in 1877. Although the distance between Georgetown and Silver Plume is only 2 miles (3.2 km), the elevation difference is over 600 ft (180 m). The narrow-gauge rail line was constructed by Union Pacific engineer Robert Blickensderfer. The line was completed in 1884 and twisted and turned, looping back over itself, over four and a half miles of track to gain the elevation.
The

Devil's Gate Viaduct [top left], 300 feet (91 m) long and almost 100 feet (30 m) high, formed a spiral where the track actually crossed over itself and became a popular turn of the century tourist attraction. In 1939, the track and bridges were dismantled and sold for scrap. Between 1975 and 1984, the railroad and Devil's Gate viaduct were rebuilt under the direction of the Colorado Historical Society.
The other pictures on glass no. 913 show the Balanced Rock in the Garden of the Gods [top right] and the Colorado State Capitol Building in Denver.

---