| | |
| --- | --- |
| ÖSTERREICH | AUSTRIA |
| Bundesland: Salzburg | |
| Bezirk: Zell am See | |
map →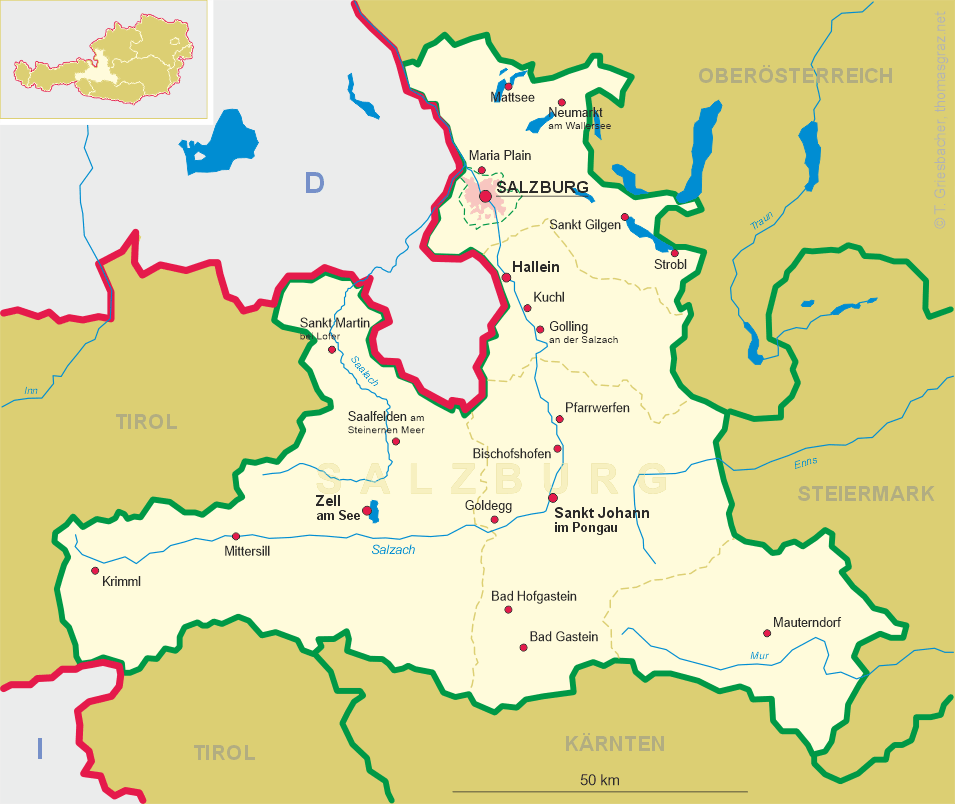 Krimml
• lt: Krimlis
• ru: Кримль
• uk: Криммль
Krimml is situated at an elevation of 1067 m on the river Krimmler Ache in the Zell am See (Pinzgau) district in western Salzburg. The municipality has a population of about 840 (2019).
While archaeological findings denote a settlement of the area in the Early Bronze Age, and also in the Hallstatt culture from the 8th to 6th centuries BC, the present-day Pinzgau was part of the Celtic kingdom of Noricum from about 200 BC. Incorporated into the Roman Empire from 15 BC, a Roman road ran along the Krimmler Ache stream up to the Alpine crest. After the Empire's decline in the 5th century, the area became largely Germanised by Bavarian settlers. Initially part of the medieval Duchy of Bavaria, Chrvmbel was first mentioned in a 1228 deed when the upper Pinzgau region was purchased by the Salzburg archbishops. At the time, Krimml was strategically important as a stop on the route connecting Salzburg with the Ahrntal and the County of Tyrol. After the Archbishopric was secularised, the former ecclesiastical estates finally passed to the Austrian Empire in 1815. From the late 19th century onwards, Alpine tourism gradually became an important economic factor.
The famous

Krimml waterfalls (Krimmler Wasserfälle) [background] are the highest waterfalls of Austria. The waters of the Krimmler Ache drop down over 380 m in three steps of 140 m, 100 m and 140 m. In 1967, this natural sight was awarded the Nature Conservation Diploma of the Council of Europe.
The

parish church Sankt Jakob [centre] was already mentioned in a document of 1244. Krimml became an independent parish in 1891.

[https://de.wikipedia.org/wiki/Krimml, https://en.wikipedia.org/wiki/Krimml; https://de.wikipedia.org/wiki/Krimmler_Wasserfälle]

---