| | |
| --- | --- |
| UNITED STATES OF AMERICA | |
| WYOMING | |
| Converse County | |
map →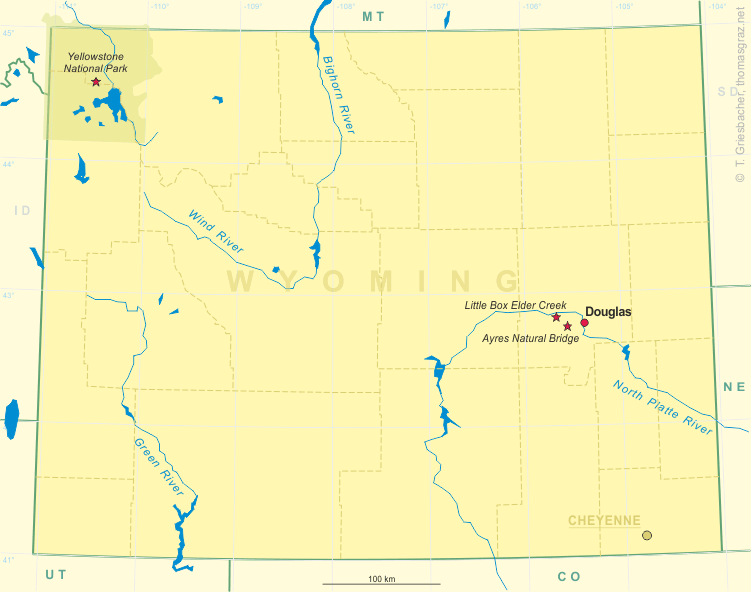 Ayres Natural Bridge Park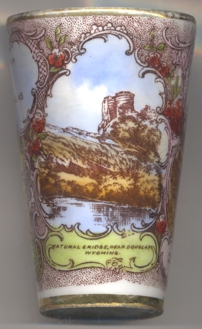 Ayres Natural Bridge Park is a county park in Converse County, Wyoming. It occupies 150 acres (0.6 km²) between the towns Glenrock and Douglas about 6 kilometres south of Interstate 25 exit 151. The park's name is derived from the rock formation of the same name.
Over the course of millions of years, a bend in LaPrele Creek (originally known as Bridge Creek) wore away at a wall of solid rock, creating a natural opening. The creek eventually shifted course through the opening, forming a 30-foot (10 m) high and 50-foot (15 m) wide arch, today known as

Ayres Natural Bridge [left].
Located about a mile (2 km) south of the Oregon Trail, the Natural Bridge was often visited by emigrants traveling west. It is considered one of Wyoming's first tourist attractions. In 1843, a pioneer described it as "a natural bridge of solid rock, over a rapid torrent, the arch being regular as tho' shaped by art."
The park is free to visit. There is a small campground in the park, as well as open picnic areas and covered tables. It is opened from April 1 through October 31, from 8 a.m. to 8 p.m., with registered campers allowed to stay overnight. No pets are allowed in the park.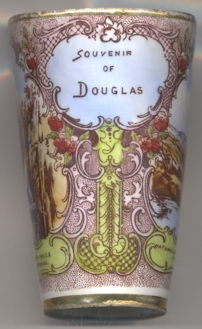 Tumbler no. B060 is labeled as a souvenir from Douglas. The other two pictures on the tumbler show a view of a sheep wagon and camp near Douglas, Wyoming, and Little Box Elder Creek.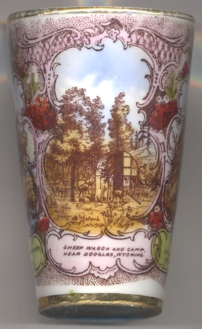 [https://en.wikipedia.org/wiki/Ayres_Natural_Bridge_Parkg]

---