| | |
| --- | --- |
| UNITED STATES OF AMERICA | |
| WYOMING | |
| Converse County | |
map →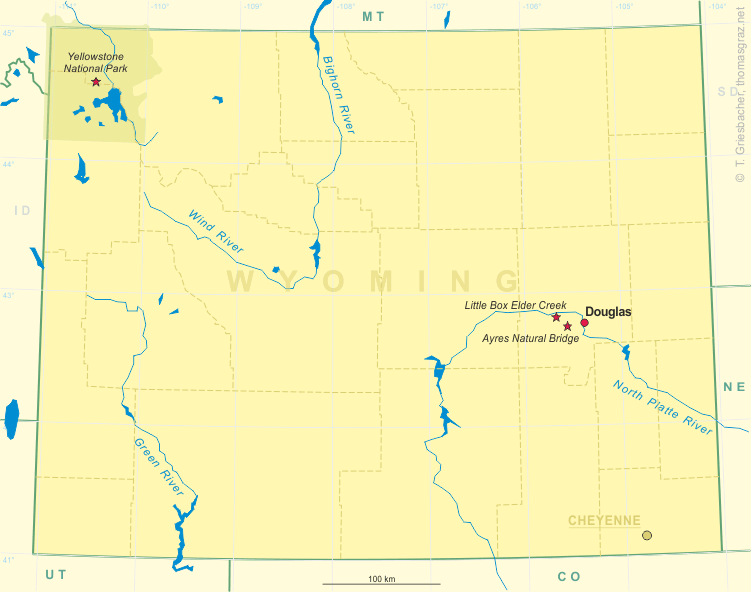 Little Box Elder Creek
Little Box Elder creek is a stream in Converse County, Wyoming, about 18 miles west of Douglas. The stream originates north of Windy Ridge and flows in a west-northwest and north-northeast direction, joining Box Elder creek shortly before the latter flows into North Platte river.
In July 1864 the Little Box Elder creek was the site of an attack of mostly Oglala Sioux on a small wagon train, known as the Kelly-Larrimer wagon train, consisting of eleven people in five wagons. The bodies of four men were originally buried on the west side of the creek. In 1954, their remains were removed and buried again next to the grave of Little Mary, located near the crest of the divide between Little Box Elder and Box Elder creeks.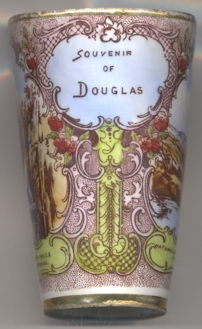 Tumbler no. B060 is labeled as a souvenir from Douglas. The other two pictures on the tumbler show a view of the Ayres Natural Bridge and a sheep wagon and camp near Douglas, Wyoming.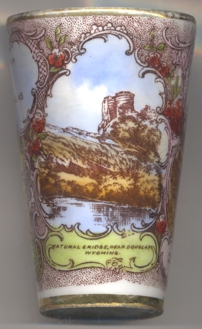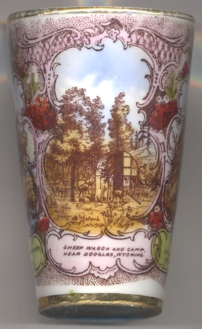 [https://geomorphologyresearch.com/2012/11/06/box-elder-creek-la-prele-creek-drainage-divide-area-landform-origins-in-the-laramie-mountains-usa/; http://www.wyohistory.org/encyclopedia/attack-kelly-larimer-wagon-train]

---