If you came to this page directly and do not see a navigation frame on top, please go to the home page.
| | |
| --- | --- |
| DEUTSCHLAND | GERMANY |
| Bundesland: Freistaat Bayern | Bavaria |
| Regierungsbezirk: Unterfranken | |
| Landkreis: Bad Kissingen | |
map →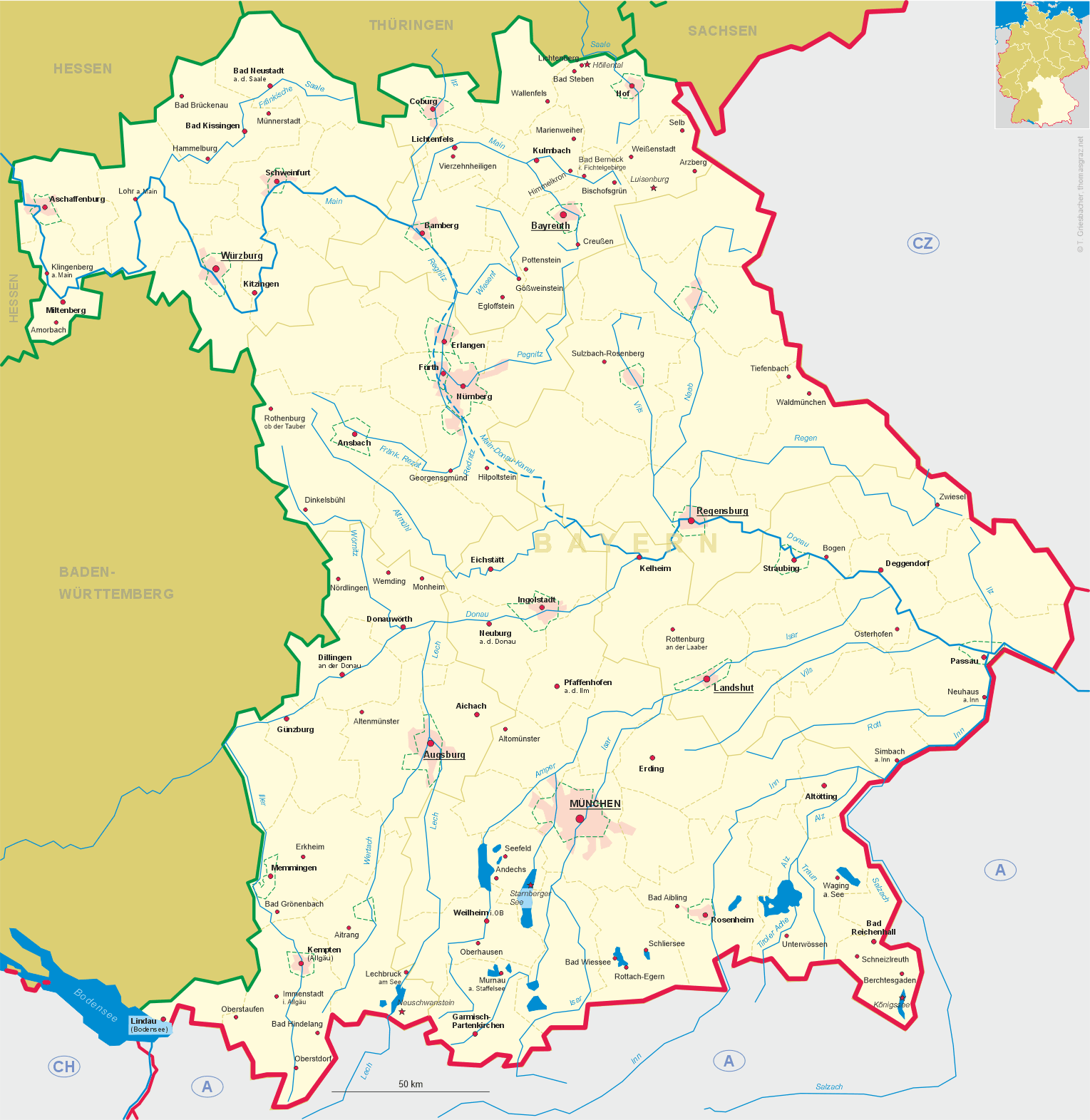 Bad Kissingen
• lt: Bad Kisingenas
• el: Μπαντ Κίσινγκεν
• sr: Бад Кисинген
• ru: Бад-Киссинген
• be: Бад-Кісінген, Бад-Кісынген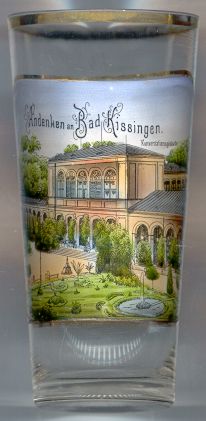 Bad Kissingen, located at an elevation of 309 m on the river Fränkische Saale in the Bavarian Rhön mountain region, was first mentioned as chizziche in 801 AD. The saline spring was first mentioned in 823 AD. By 1279 Kissingen had obtained the status of a town. At least since 1520, the saline spring was used for treatments. In order to protect the spring from floodings, the river was transfered to a new bed in 1737. Kissingen was in possession of the prince bishops of Würzburg before it became part of the Kingdom of Bavaria in 1814. During the 19th century Kissingen became one of the most fashionable spas in Europe. Among the many important guests were Emperor Franz Joseph I of Austria, Czar Alexander II of Russia, the Bavarian kings Ludwig I, Maximilian II and Ludwig II, King Karl I of Württemberg, and Crown Prince Friedrich-Wilhelm of Prussia (the later King Friedrich-Wilhelm III). In 1883 the predicate 'Bad' (spa) was added to the name Kissingen.
The

Brunnen- und Wandelhalle (pump room) [left], formerly named Konversationsgebäude (conversation room), was built in 1911 and replaced an iron pavilion of 1842. The arcades (length 200 m) enclosing the spa gardens were erected in 1834–1838.


The

Rakoczy-Brunnen (Rakoczy spring) [near left, no. 2758] was rediscovered in 1737 in the old river bed of the Saale when the river was transfered to a new bed. The turbulent spring was named for Ferenc Rákóczi II, leader of the Hungarian uprising against the Habsburgs in 1703–11. The anniversary of the rediscovery of the spring is celebrated annually by the city of Bad Kissingen.
[http://www.badkissingen.de/de/tourismus-kurort-bayern/wellnessurlaub-bayern-rhoen/gesundheit/heilquellen-heilwasser/1191.Rakoczy-Quelle_-_Rebellisch_wie_der_Namensgeber.html]

---