If you came to this page directly and do not see a navigation frame on top, please go to the home page.
| | |
| --- | --- |
| DEUTSCHLAND | GERMANY |
| Bundesland: Freistaat Sachsen | Saxony |
| Landkreis: Erzgebirgskreis | |
map →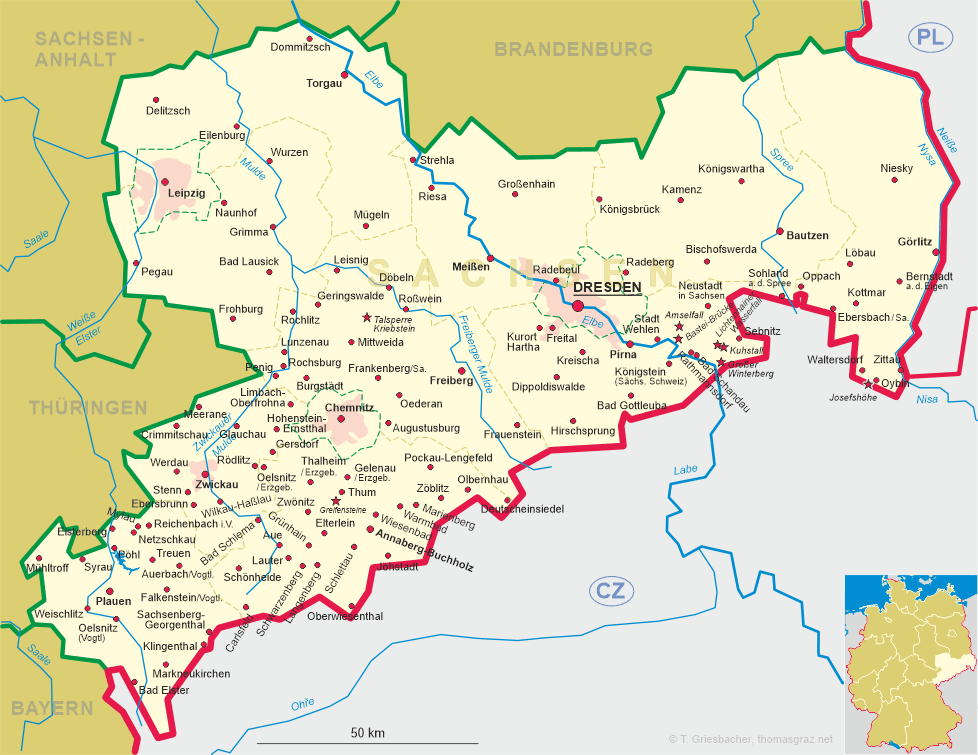 Schwarzenberg
• ru: Шварценберг (Рудные горы)
Schwarzenberg is situated at an elevation of 426 m at the confluence of the rivers Schwarzwasser and Große Mittweida in the district Erzgebirgskreis in the Erzgebirge (Ore Mountains) region of Saxony. Schwarzenberg has a population of about 18,700 (2004).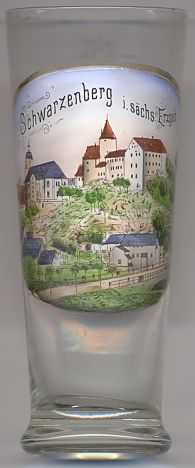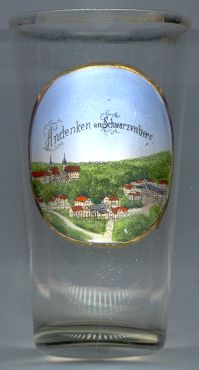 The

castle [left, no. 2133: top right] was already founded around 1150. The earliest written mention of Schwarzenberg, however, is only found in a document of 1282. During the ensuing centuries the ownership of the domain changed several times. In those times Schwarzenberg also developed into a regional centre of trade and craftsmanship. Several privileges were granted to Schwarzenberg including the rights to hold several annual markets. Nevertheless, Schwarzenberg stayed a town of 'lesser rigths'. The mining activities, which had started centuries before, were intensified during the 16th century. A mining office is first mentioned in 1581, but certainly must have existed much earlier. Since 1587 Schwarzenberg had the status of a 'mining town', which meant that it also enjoyed certain privileges. Schwarzenberg was situated at the 'silver road', which connected the traditional mining towns Schneeberg, Schwarzenberg, Annaberg-Buchholz, Wolkenstein, Marienberg, Lengefeld, Brand-Erbisdorf and Freiberg, and connected them to Zwickau and Dresden.
The Baroque

parish church Sankt Georg [left, no. 2133: top left] was built in 1690–1699 by the architect Johann Georg Roth.
After 1850 the industrialisation changed much of the town's life. The modern development was further boosted by the opening of the railroad in 1858 from Zwickau to Schwarzenberg. During the Nazi period one of the granite quarries was used as an arena for parades ("Grenzlandfeierstätte Erzgebirge"). Luckily, the old town was almost completely spared by bomb raids during the war. After the German capitulation, the district Schwarzenberg remained unoccupied by Allied troops. The local inhabitants deposed the local authorities and proclaimed the 'Free Republic of Schwarzenberg' on 11th May, 1945. Only on 26th June the Soviet troops occupied the town and established a district headquarters one month later. These events were described by the German authors Stefan Heym and Volker Braun in their novels "Schwarzenberg" and "Das unbesetzte Gebiet" ('The Unoccupied Area'). The districts Aue and Schwarzenberg were merged in 1994. The new district was at first named Westerzgebirgskreis (district Western Ore Mountains), but was renamed Aue-Schwarzenberg in 1995. The seat of the district administration was located in Aue. On 1st August 2008 the districts Annaberg, Aue-Schwarzenberg, Mittlerer Erzgebirgskreis and Stollberg were merged to become the new district Erzgebirgskreis with the seat of the district's administration in Annaberg-Buchholz.

---