If you came to this page directly and do not see a navigation frame on top, please go to the home page.
| | |
| --- | --- |
| POLSKA | POLAND |
| województwo: Dolnośląskie | voivodship: Lower Silesia |
| miasto na prawach powiatu: Wałbrzych | city: Wałbrzych |
map →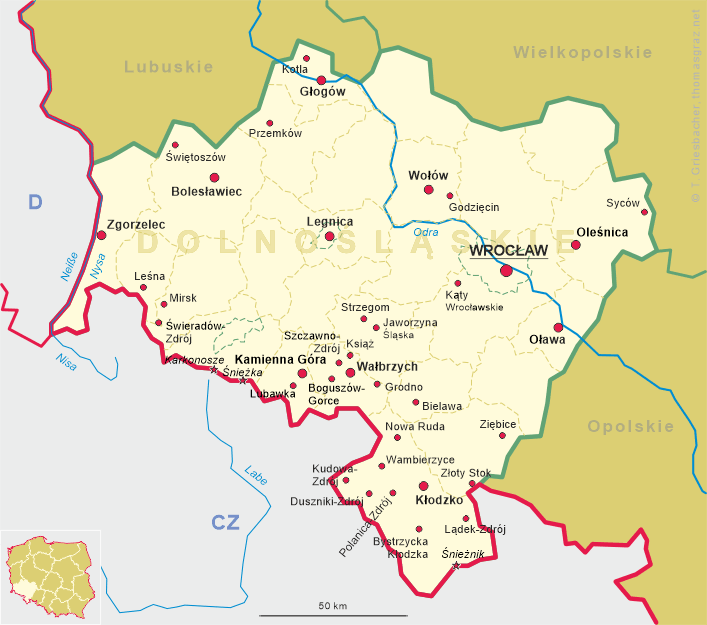 Wałbrzych
• lv: 
Valbžiha • lt: 
Valbžychas • cs: 
Valdenburk, Valbřich • de: 
Waldenburg
• bg, mk, ru, sr, uk: 
Валбжих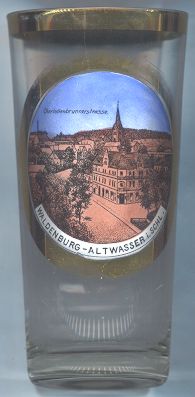 Wałbrzych (German: Waldenburg) is situated at an elevation of 450 m in the Dolnośląskie (Lower Silesia) voivodship (region) of southern Poland, about 65 km southwest of the region's capital, Wrocław. Wałbrzych is the seat of the administration of the district (powiat) of the same name and has a population of about 129,500 (2004).
Wałbrzych originated around 1250 as a village next to a castle. Around 1400 it was granted a German city charter. From 1542 onward Wałbrzych was part of the Habsburg possessions. In 1742 it became part of Prussia and remained part of this country until 1945. Since 1924 the city was independent from the surrounding district, although the district administration remained in the town. Between 1975 and 1998 Wałbrzych was the capital of the Wałbrzych voivodship.
Stary Zdrój Stary Zdrój (German: Altwasser) is a city district of Wałbrzych. It was first mentioned as Aqua Antiqua ('Old Water') in a document of 1357. Silver was mined here as early as 1412, coal mines are documented since 1548. The earliest reference to mineral springs dates from 1644. Further springs discovered between 1771 and 1857 provided the basis for the popularity of Altwasser as a spa place. After 1850 Altwasser changed into an industrial town, especially after the extension of the coal mines caused the mineral springs to run dry. Altwasser was incorporated into Waldenburg in 1919. After World War II, Altwasser was renamed Stary Zdrój ('Old Spring').
Glass no. 2029 [left] is a souvenir from Waldenburg-Altwasser. The street depicted on the glass is

Charlottenbrunnerstraße, named for the spa town Bad Charlottenbrunn (now Jedlina Zdrój), about 5 km southeast of Wałbrzych. The present name of the street is ulica 11-go Listopada (11th November).
The church depicted in the background is the

Church of the Invocation of the Resurrection (kościół pod wezwaniem Zmartwychwstania Pańskiego). The church was built in 1870.

---