Ohligs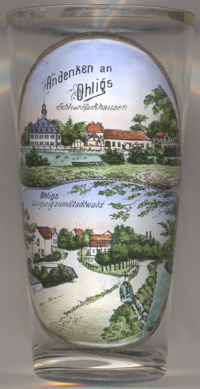 Ohligs, located in the southwest of the municipality of Solingen, is part of the district Ohligs/Aufderhöhe/Merscheid, the largest town district of Solingen in terms of population (42,000 in 2015); Ohligs itself has a population of about 20,000 (2015).
Olligs was first mentioned in a document dating from 1714. After the foundation of the grand Duchy of Berg in 1806, the marie (municipality according to the French model) Merscheid was founded in 1808 from the former parish Wald, which included Ohligs. When in the 1860s a railway line was to be built from Cologne-Deutz to Haan-Gruiten, the local station could only be built at the then undeveloped fallow land of Ohligs. The station, then named Ohligs-Wald, today is Solingens main railway station (Hauptbahnhof). Due to the enormous development of industry around the railway station, the importace of Ohligs rapidly increased. In 1891, the municipality of Merscheid was renamed Ohligs. In 1929, Ohligs, together with the towns Wald, Höhscheid and Gräfrath were incorporated into Solingen.

Hackhausen castle [left, no. 3441: top picture] goes back to a moated castle from the Middle Ages. The dukes of berg inherited the castle in the 15th century but due to lack of money already in 1485 sold it to the Bottlenberg-Kessel family. In 1772 the old castle was demolished to be replaced by a more representative palais in Rococo style keeping the old moats around it. This castle was completely destroyed by fire in 1887. In the 1890s, the ruins were sold to private owners who in 1907 had it rebuilt according to the original design.
The bottom picture on glass no. 3441 is labeled

Eingang zum Stadtwald (Entrance to the municipal forest).


[https://de.wikipedia.org/wiki/Solingen, https://en.wikipedia.org/wiki/Solingen; https://en.wikipedia.org/wiki/Müngsten_Bridge; http://www.zeitspurensuche.de/02/sgdenkm1.htm; https://de.wikipedia.org/wiki/St._Clemens_(Solingen); https://en.wikipedia.org/wiki/Burg_Castle_(Solingen); https://de.wikipedia.org/wiki/Ohligs; https://de.wikipedia.org/wiki/Schloss_Hackhausen]

---