Грајфсвалд
The history of Greifswald begins in 1193 when Danish Cistercian monks who had founded the monastery of Dargun near Demmin obtained the right to produce salt on the northern bank of the river Ryck. The monastery Eldena was founded in 1199 near the estuary of the Ryck. In 1248 the name Greifswald (oppidum Gripheswald) appeared for the first time in a document. The village obtained the status of a town in 1250. Greifswald was among the founding members when the union of trading towns, the Hanse, was founded in 1299. The university was founded in 1456 which makes it the second-oldest in Northern Europe, after Rostock. The university was reopened as a protestant university in 1539. The town surrendered to the Swedish troops in 1631. After the Westfalian Peace in 1648, Sweden obtained West Pomerania, Rügen and Greifswald. West Pomerania was purchased by Prussia in 1815. The 19th century brought a boom of the ship-building industry, the harbour was enlarged several times. During World War II, the town was largely spared from air raids, and surrendered to the Red Army without fighting on 30 April 1045. After the re-unification of Germany in 1990, the prefix 'Hansestadt' was again added to the city's name.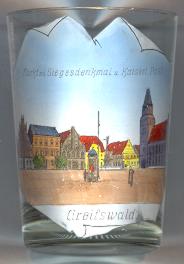 The

Marktplatz (market square) [left] is the centre of the old town. A famous painting of the Greifswald-born romantic painter Caspar David Friedrich (1774–1840) depicts the square and is housed in the town museum.
The building on the right hand side of the picture shows the

Kaiserliche Post (Imperial Post Office) which was built in the 1890s. The top part of the tower does not exist any more; it has been replaced by a low, pyramid-shaped roof in the 20th century.
The

victory monument [in the background, barely visible between the two houses depicted in yellow] was a memorial for Germany's victory in the French-German War of 1870/71 which led to the foundation of the German Empire on 18 January 1871 in Versailles. The monument, a glory statue on top of a water basin, was inaugurated in 1892 and was demolished in 1936.
The short cylindrical structure depicted in the centre of the square is a column to affix posters and announcements. In Germany and Austria these columns are called Litfaß-Säulen (Litfass columns), named for the publisher Ernst Litfaß from Berlin who introduced these columns in Germany in 1855 after he had seen similar announcement columns in London and Paris.
The German writer Hans FALLADA (1893–1947; real name Rudolf Ditzen) was born in Greifswald. Among his most famous books are Wer einmal aus dem Blechnapf frisst (1931; Who Once Eats Out Of the Tin Bowl), Kleiner Mann, was nun? (1932; Little Man, What Now?), Wolf unter Wölfen (1937; Wolf among Wolves), and 'Jeder stirbt für sich allein' (1947; Every Man Dies for Himself). Since 1981, the city of Neumünster awards the Hans-Fallada-Prize for literature.

---