| | |
| --- | --- |
| ČESKÁ REPUBLIKA | CZECH REPUBLIC |
| Pardubický kraj | Pardubice region |
| Okres: Ústí nad Orlicí | |
map →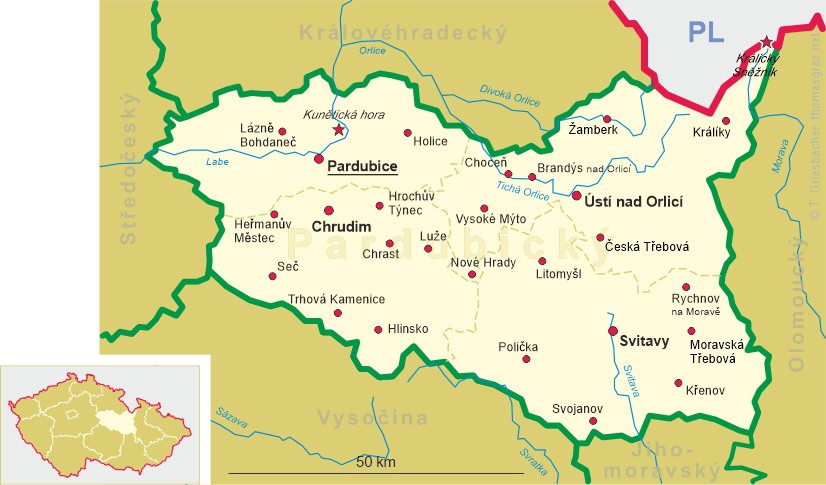 Česká Třebová
• de: Böhmisch-Trübau
• lv: Česka Tršebova
• pl: Czeska Trzebowa
• ru: Ческа-Тршебова
• sr: Чешка Требова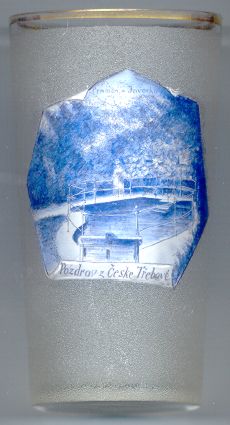 Česká Třebová is situated at an elevation of 375 m on the river Třebovká about 11 km southeast of the district town Ústí nad Orlicí. The municipality has a population of about 15,500 (2018).
Tribovia was first mentioned in a document dating from 1278. In 1292 it was mentioed as a 'civitas'. In 1304 King Václav II donated it to the monastery of Zbraslav (Königssaal) and in the same year it obtained the status of a market town. In the 14th century, the town belonged to the bishops of Litomyšl. After the Hussite Wars, the owners of the town changed several times. After the Battle at the White Mountain (Bílá Hora, today part of Prague) in 1620, it became part of the estates of the counts Liechtenstein-Kastelkorn who revoked all privileges of the town. In 1848, after the abolition of manorialism, the town became an independent municipality. During the 19th century, Česká Třebová gained importance when it became a railroad junction: the railway line from Olomouc to Prague opened in 1845, the line from Brno to Česká Třebová opened in 1849.
The

Old Town Hall [left, no. 3523: background centre] was built in 1547 in Renaissance style.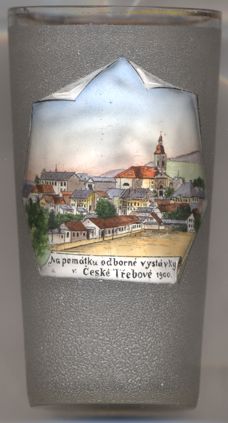 The

parish and deanery church St. James the Elder [near left, no. 3975] was built in 1794–1801 in Classicist style.
Glass no. 3975 [near left] is labeled Na památku odborné vystávky v České Třebové 1900 (in memory of the

professional exhibition in Česká Třebová 1900).

[https://de.wikipedia.org/wiki/Česká_Třebová, https://en.wikipedia.org/wiki/Česká_Třebová; https://de.wikipedia.org/wiki/Bahnstrecke_Brno–Česká_Třebová; https://pamatkovykatalog.cz/?element=15886807&action=element&presenter=ElementsResults; https://cs.wikipedia.org/wiki/%C4%8Cesk%C3%A1_T%C5%99ebov%C3%A1]

---