| | |
| --- | --- |
| ÖSTERREICH | AUSTRIA |
| Bundesland: Steiermark | Styria |
| Bezirk: Südoststeiermark | |
map →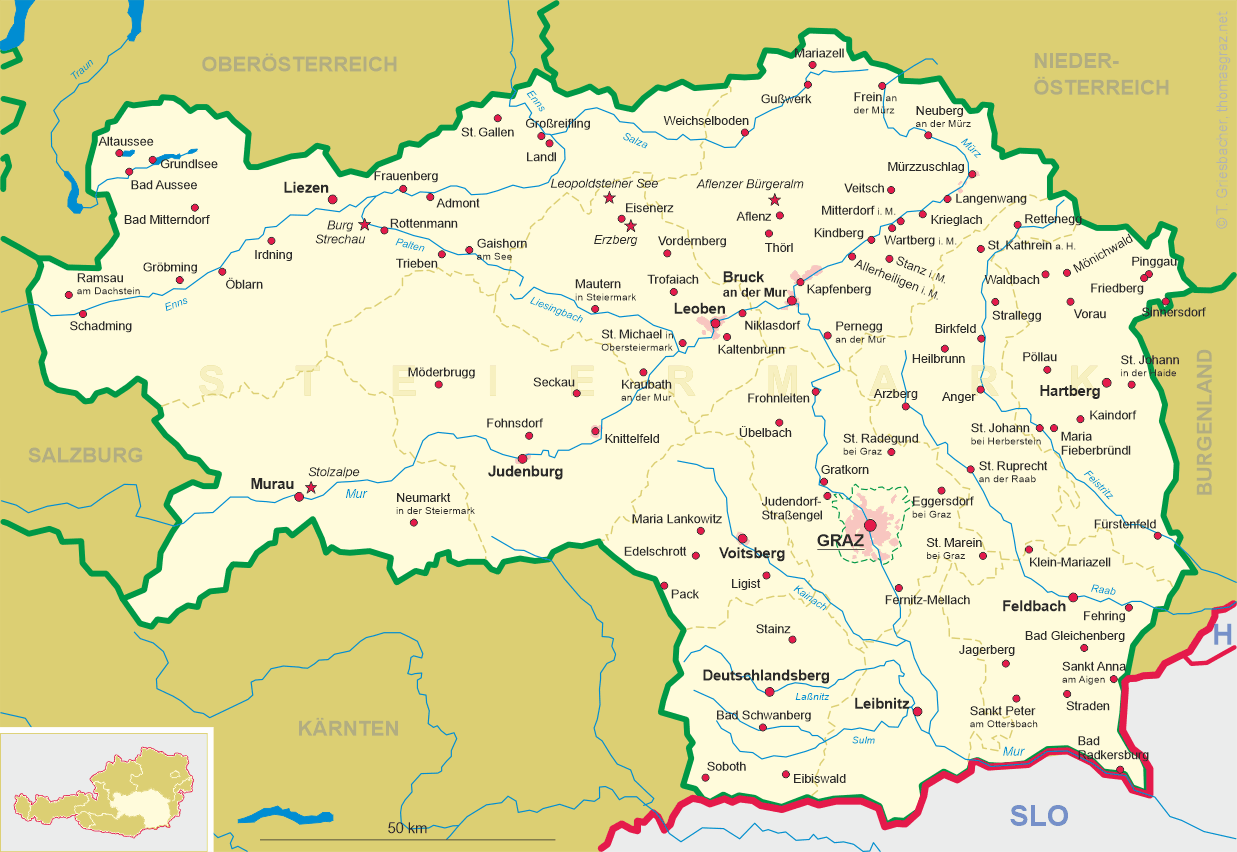 Feldbach
• lt: Feldbachas
• lv: Feldbaha
• sr: Фелдбах
• ru, uk: Фельдбах

Feldbach is situated at an elevation of 282 m on the river Raab in eastern Styria. The municipality has a population of about 13,400 (2018) and is the administrative centre of the district Südoststeiermark (Southeast Styria).
The village was first mentioned in 1188. As it was located at an important ford across the river Feldbach had obtained the status of a market town in 1265. In 1362 it received important further privileges. However, the further development was obstructed by the many feuds between the local noble families during the 14th and 15th centuries. It was during these unsafe times that the elevated area around the old parish church was fortified by a double moat, palisades and a closed ring of small houses that served as a refuge for the inhabitants of Feldbach in times of war. Although partly destroyed during World War II the remnants of this "Tabor" are still an impressive example of the defense architecture of that time. The market town itself was only fortified between 1605 and 1630. The modern development of Feldbach was supported by the opening of the railroad from Graz via Feldbach and Fehring to Budapest; a branch line to Bad Gleichenberg was opened in 1931. In 1884 Feldbach finally obtained the status of a town. During World War I Feldbach was the site of a large military hospital for about 50,000 prisoners, later also for soldiers. During World War II the town was occupied for a while by the Red Army. Although the Soviets withdrew from Feldbach, the town suffered heavy damages due to shelling from the nearby Steinberg hill. On 1 January 2013 the former districts Feldbach and Radkersburg were merged into the new district Südoststeiermark (Southeast Styria); the capital of the new district is Feldbach.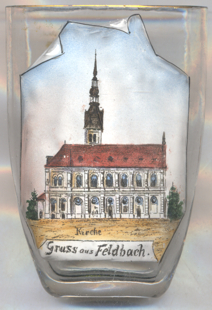 The

parish church Sankt Leonhard [left] was first mentioned in 1188 and became a parish church in 1232. The present church was built in 1898–1900 in Renaissance revival style incorporating the nave of the previous, Gothic, church from the 14th century with the former church tower. The upper part of the old church tower was destroyed in 1945. Since then, the old church is dedicated as a war memorial. A new, modern concrete bell tower (72 m high) was erected in 1961–1964 next to the church. The new tower was decorated with more than 2,000 colour fields, designed by the painter Gustav Troger and executed by young members of the parish. A treasure of the church is the crucifixion group created in the 18th century by the sculptor Veit Königer.
The picture on glass no. 1604 [right] shows the

Hauptplatz (main square) of Feldbach.
The

Mariensäule (Lady Column) [far left] was erected in 1717. After a thorough restoration the column was moved about 10 m to a new site on the square in 2003.

---