| | |
| --- | --- |
| ÖSTERREICH | AUSTRIA |
| Bundesland: Oberösterreich | Upper Austria |
| Bezirk: Schärding | |
map →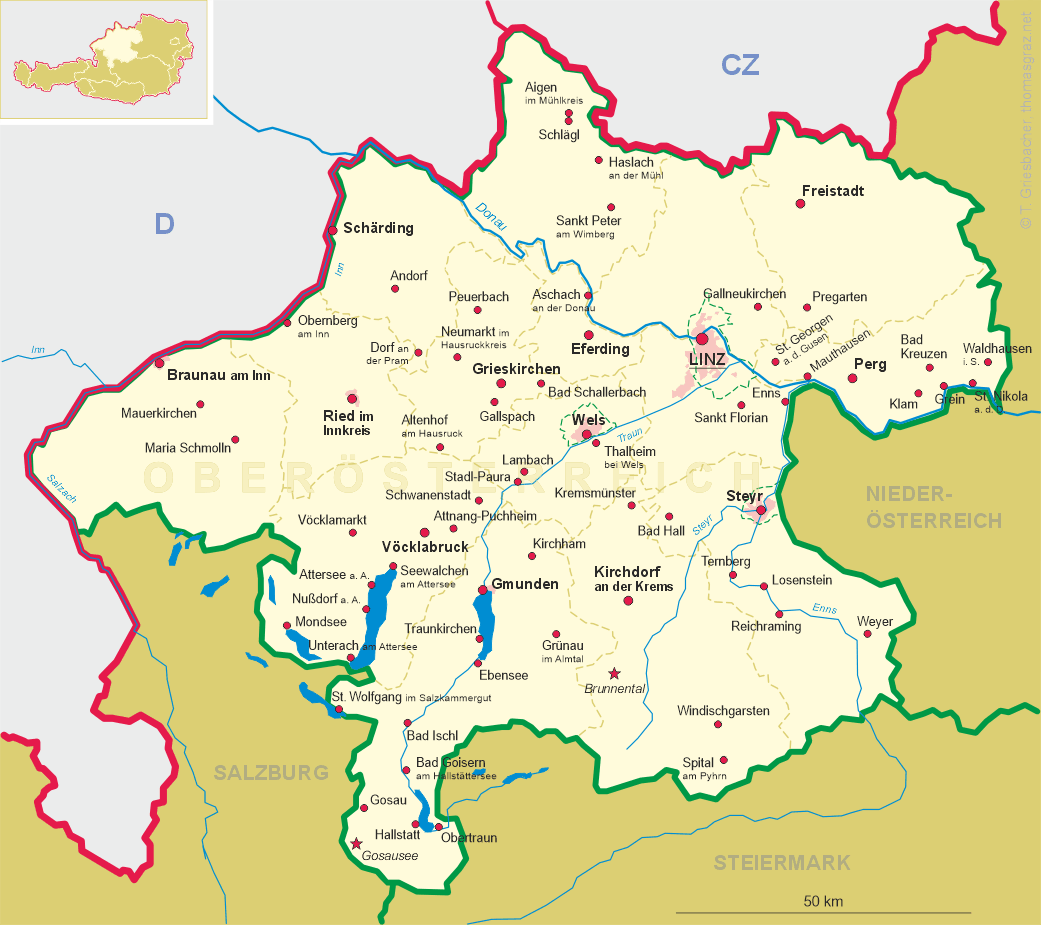 Schärding
• lt: Šerdingas
• ru, sr: Шердинг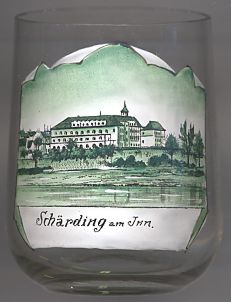 Schärding is situated at an elevation of 318 m on the right bank of the river Inn, which forms the border between Austria and Germany (Bavaria), opposite of Neuhaus a. Inn. Schärding is the seat of the administration of the district of the same name and has a population of about 5,000 (2001).
The earliest mention of Scardinga is found in a document of AD 804 where Schärding was mentioned as an estate of the bishops of Passau. In the 10th century it became the centre of the domains of the counts of Formbach(Vornbach)-Neuburg. In 1160 it came in possession of the counts of Andechs, who were succeeded in 1248 by the Bavarian dukes of the Wittelsbacher dynasty. As it was located on an important trading route, Schärding soon prospered as a trading place for salt, wood, ores, wine, silk, glass, grains, cloth and cattle. Towards the end of the 13th century, Schärding obtained the privileges of a market town. In 1310 it was mentioned for the first time as a town, and in 1369 it obtained this status definitely. With the Treaty of Teschen (now Cieszyn), which ended the War of the Bavarian Succession between Austrian and Prussia, the Innviertel region became part of the Austrian countries and Schärding thus became a border town. In addition, the town losts its position as a salt-trading town because of the Austrian state's salt monopole. During the Napolenic wars, Schärding was devastated in 1806. In 1810 the Innviertel region was annexed again by Bavaria, but after the Congress of Vienna (1815) it was returned to Austria.
The picture on glass no. 2199 [left] shows the

Kuranstalt (sanatorium) which is located on the Inn river a little upstream from the old town centre. The complex was originally built in 1635–1638 as the Capuchin monastery. The convent was dissolved around 1800 and since 1814 was used by the local administration. In 1928 the Order of Hospitallers (Brothers Hospitallers of St. John of God) acquried the building and converted it into a sanatorium which opened in 1931. The sanatoruim continued the tradition of the Kneipp sanatorium of Schärding which had been founded in 1892. After the Anschluss, the de-facto annexation in 1938 of Austria by Nazi Germany, the church of the sanatorium was closed and the facilities were disseized. During the war, the complex was used as a supplementary military hospital. In 1948 the building was restituted to the Brothers Hospitallers who reopened the sanatorium already in the same year.

---