| | |
| --- | --- |
| ČESKÁ REPUBLIKA | CZECH REPUBLIC |
| Středočeský kraj | Central Bohemia region |
| Okres: Benešov | |
map →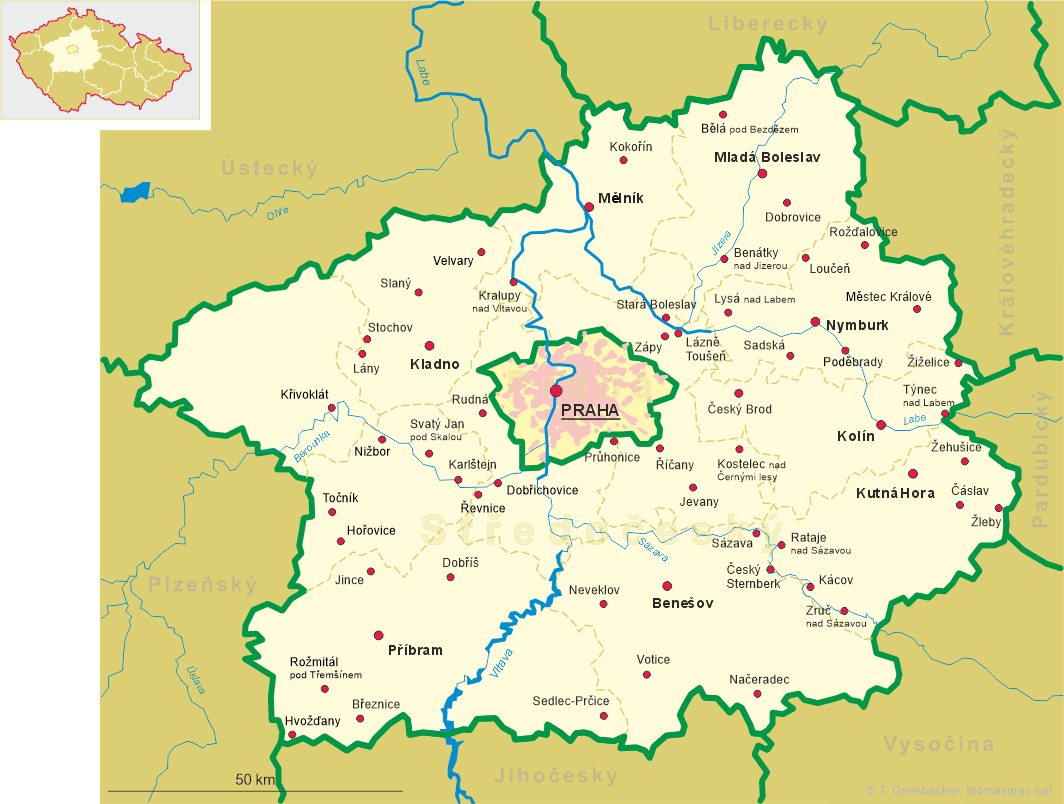 Benešov
• de: Beneschau
• lv: Benešova
• lt: Benešovas
• be: Бенешаў
• bg, mk, ru, sr, uk: Бенешов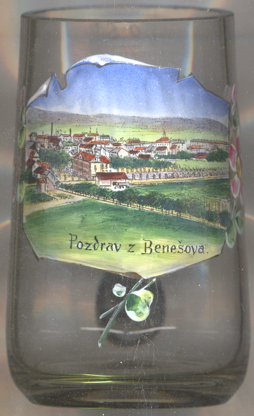 Benešov is situated at an elevation of 360 m about 40 km southeast of Prague in the Central Bohemian region. Benešov is the capital of the district (okres) of the same name. The municipality has a population of about 16,600 (2016).
The first settlers are believed to have arrived on Karlov Hill in 1050 during the Přemyslid dynasty. The first written mention of Benissaw, however, dates only from 1226. A small monastery was founded here in 1246. By 1300 they left and the property was sold to the Lord of Sternberg (Šternberk), whose crest is still the city's coat of arms. In 1420 the then mostly German populated city was conquered and burned by the Hussites. In the 15th and 16th centuries the town experienced an economic boom, especially thanks to its location on the trade route from Prague to Linz. In 1871 the town was connected to Prague by rail and by 1895 it was an important regional hub. By World War I, Benesov was an important garrison town of the Austro-Hungarian Monarchy. Early during World War II the town was evacuated temporarily as the 'SS-Truppenübungsplatz Böhmen' of the Waffen-SS was stationed here. A significant measure of industrialisation began after 1945 with the establishment of a machinery factory and the food industry.

Konopiště castle [left] was apparently established in the 1280s by the bishop of Prague as a Gothic fortification in the style of a French castle with a rectangular plan and round towers protruding from the corners, making the most effective defence possible. In 1468, it was conquered by the troops of George of Poděbrady after a siege that lasted almost two years. In the early 17th century, alterations in Renaissance style were made. After 1725, the castle was transformed into a Baroque style château. Archduke Franz Ferdinand of Austria bought Konopiště in 1887 with his inheritance from the last reigning Duke of Modena. He had it repaired between 1889 and 1894 into a luxurious residence, suitable for a future Emperor, which he preferred to his official residence in Vienna. The extensive 225-hectare English-style park, with terraces, a rose garden and statues, was established at the same time. Since 1921, the castle has been the property of the Czechoslovak and later Czech state. Currently, the descendants of Franz Ferdinand are claiming for the restitution of the castle to their family (which was never recognized as part of the House of Habsburg), on the grounds that the provisions the Treaty of Paris / Saint-Germain-en-Laye (1919) do not apply to them.
Another glass from this collection shows a view of
Horní Benešov
(formerly in German:
Bennisch
) in the Moravian-Silesian region of the Czech Republic.
[https://de.wikipedia.org/wiki/Benešov, https://de.wikipedia.org/wiki/Benešov; https://en.wikipedia.org/wiki/Konopiště]

---