| | |
| --- | --- |
| ÖSTERREICH | AUSTRIA |
| Bundesland: Burgenland | |
| Stadt: Eisenstadt | |
map →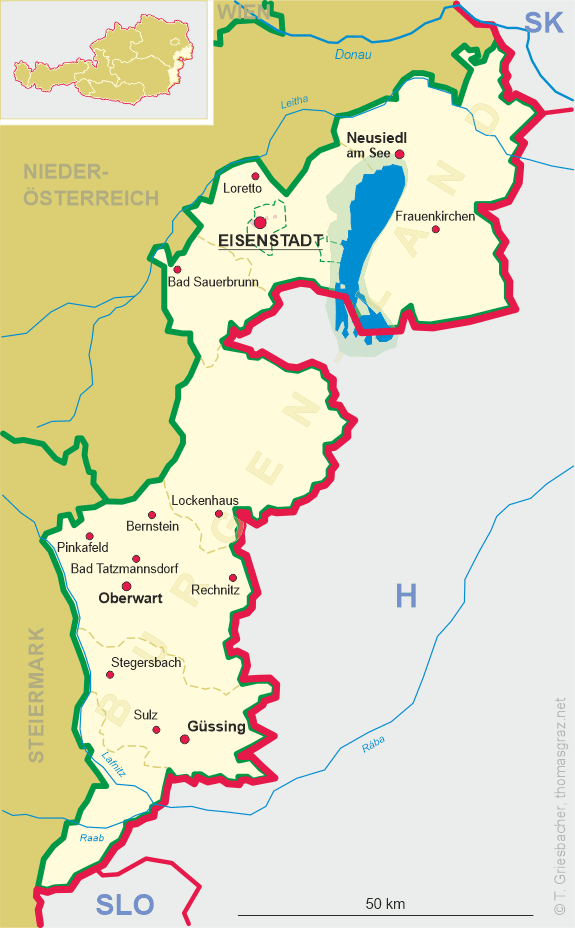 Eisenstadt
• lt: Eizenštatas
• lv: Eizenštate
• hu: Kismarton
• cs: Železné Město
• hr-at: Železno
• hr: Željezno
• el: Άιζενσταντ
• ru, uk: Айзенштадт
• be: Айзэнштадт
• mk, sr: Айзенштат
• bg: Айзенщат
• ar: أيزنشتات
Eisenstadt was first mentioned in a chronicle of 1118. The earliest document referring to Eisenstadt dates from 1264. In 1373 the village received the status of a town. Between 1445 and 1648 Eisenstadt was in possession of the Habsburgs. Thereafter, it enjoyed the status of a Royal Hungarian free city. It was one of the residences of the Esterházy dynasty. After World War II and the Treaties of Paris (Saint-Germain 1919 and Trianon 1920) a referendum was held in 1921 in the German-speaking parts of western Hungary. In this referendum Eisenstadt and other parts of the country voted for joining Austria and became Austria's 9th federal state, Burgenland. The name of the province is derived from the German names for the Hungarian counties Sopron (Ödenburg), Moson (Wieselburg) and Vas (Eisenburg, county seat Szombathely / Steinamanger). Eisenstadt became the capital of Burgenland in 1925. Since 1960, Eisenstadt is also the seat of a bishop.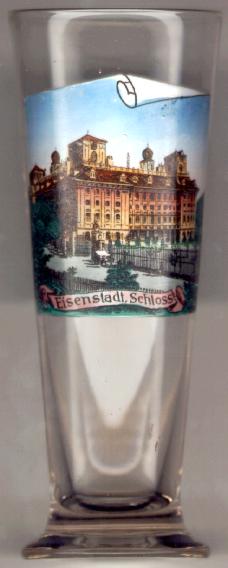 The town centre is marked by

Schloss Esterházy [left], the splendid Baroque residence palace built by Carlo Martino Carlone for Count (1687 Prince) Paul I Esterházy de Galántha (1635–1713) between 1663 and 1672 transforming the medieval castle. Prince Paul II Anton (1711–1762), Prince Nikolaus I Joseph (1714–1790) and Prince Nikolaus II (1765–1833) were the patrons of the composer Joseph Haydn (1732–1809), who worked here from 1761 for 30 years as court conductor. The precious festival hall, today called Haydn-Saal, was the room where Haydn conducted uncounted performances which were also visited by such famous guests as Ludwig van Beethoven, Franz Liszt, but also by Lady Hamilton or Admiral Nelson. Successor of Haydn as court conductor was Johann Nepomuk Hummel between 1804 and 1811.

The

Bergkirche Mariä Himmelfahrt (Ascension of Our Lady) [right] was built between 1715 and 1772. The artificial hill on which the church is situated had been constructed in 1701 as a Calvary (Kalvarienberg) after the model of Maria-Lanzendorf but on a much larger scale. The path, which partly runs underground, originally contained 33 stations; 24 of these can still be seen today. The stone statue of the Virgin Mary in the Lady Chapel was sculptured in 1690 after the model of the one in Einsiedeln in Switzerland and was brought to Eisenstadt in 1711. Pilgrimages to this site were particularly popular during the 18th century. In 1932, the 200th anniversary of Joseph Haydn's birth, the chapel beneath the north tower of the church was dedicated as mausoleum for Haydn. Already in 1820 the remains of Haydn had been transferred from Vienna to Eisenstadt. On that occasion it was discovered that the skull was missing. In 1895 the skull came into possession of the Gesellschaft der Musikfreunde (Society of Music Lovers) which exhibited it in their museum in Vienna until 1954. Only then, the skull was brought to Eisenstadt to be buried in the mausoleum.

---