• sr: Збирох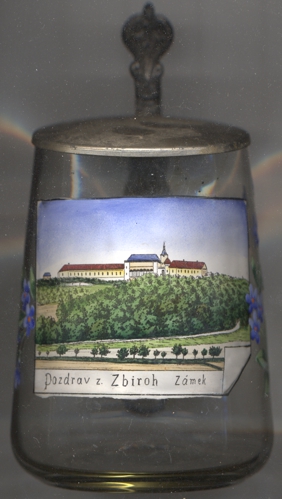 Zbiroh is situated at an elevation of 414 m at the western edge of the Křivoklátsko Biosphere reserve, about 20 km northeast of the district town Rokycany and about 35 km northeast of the regional capital, Plzeň. The municipality has a population of about 2,500 (2019).
The first written mention of the village dates from 1230. In 1369 it obtained the status of a market town and in 1897 that of a town.
The

parish church of St. Nicholas [left, no. 3894: far left, barely visible] goes back to a Gothic church of the 14th century. It was rebuilt in Baroque style in 1716. The interior decorations date from 1883.

Zbiroh castle (now château) [right, no. 4180, and left, no. 3894: background top] is the main local tourist attraction. It originated from a fortified castle that was founded in the 13th century. In 1868, it was bought by the businessman baron Bethel Henry Strousberg, who in 1869–1870 had the château remodelled in Neo-Renaissance style according to a project of the architect August Orth. In 1879, after Strousberg's bankruptcy, the counts Colloredo-Mansfeld bought the château. The painter Alfons Mucha lived in the east wing from 1912 to 1928 with his family. Here, in the large hall of the château, he painted his famous painting cycle Slavonic Epopee, which was intended for the city of Prague and was exhibited at the château of Moravský Krumlov from 1963 until 2012. During World War II, from 1943 to 1945, the castle was the seat of the SS staff. After that, the complex became a property of the Czechoslovak state and was used by the army. After 1989, the château was acquired by the town of Zbiroh, which sold it in 2004 to a private company.

[https://de.wikipedia.org/wiki/Zbiroh, https://cs.wikipedia.org/wiki/Zbiroh; https://cs.wikipedia.org/wiki/Zbiroh_(z%C3%A1mek), https://en.wikipedia.org/wiki/The_Slav_Epic; https://www.zbiroh.cz/turista-1/pamatky-a-turisticke-cile-1/kostel-sv-mikulase-zbiroh-226cs.html]

---