| | |
| --- | --- |
| ÖSTERREICH | AUSTRIA |
| Bundesland: Salzburg | |
| Bezirk: Salzburg-Land | |
map →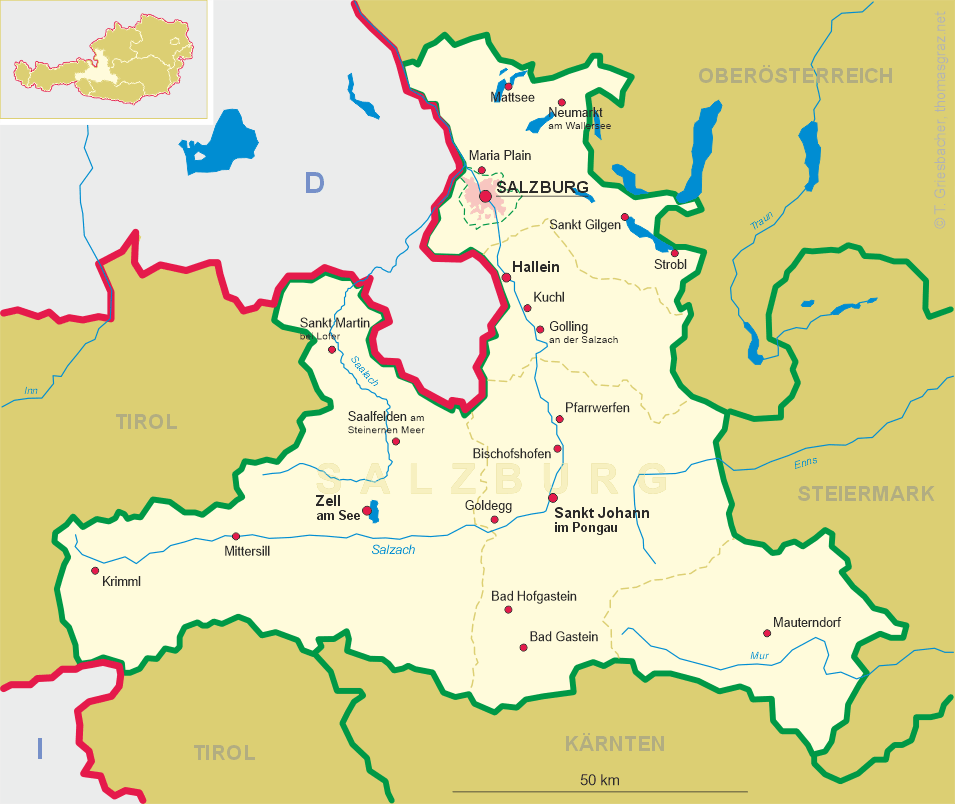 Neumarkt am Wallersee
• prev.: Neumarkt bei Salzburg
• ru: Ноймаркт-ам-Валлерзе
• uk: Ноймаркт-ам-Валлерзее
Neumarkt am Wallersee is situated at an elevation of 552 m on the eastern shore of the lake Wallersee, about 22 km northeast of the city of Salzburg. The municipality consists of twelve individual localities and has a population of about 6,500 (2021).
Neumarkt was founded according to plan around 1240 by the archbishops of Salzburg. The decisive factor for this was the location on the northern border of the archbishopric, where the sovereign needed a "guard" to consolidate his presence. Within a short time, the Novum Forum ('new market') assumed a key economic position. The privileges that Neumarkt was endowed with — the toll law, the bar and trade privilege, the right of residence and the right to hold a weekly market — contributed significantly to the fact that Neumarkt developed into an economic hub. In the 17th century, the market town was fortified to create a border bastion. The Second and Third Wars of the Coalition (1800 and 1805) hit the community badly. Finally, the great market fire of 1879 and the fire in the parish church in 1887 caused devastating damage. The community only recovered after World War II. More and more guests followed, and its importance as a central location and focus community for services in the entire region increased rapidly. The name of the market town — until then mostly known as Neumarkt bei Salzburg — was officially changed to Neumarkt am Wallersee in 1951. At the request of the municipality, Neumarkt am Wallersee obtained the status of a town in 2000.
The Catholic

parish church Sankt Nikolaus [background right] goes back to a church that was first mentioned in 1389. That early church was rebuilt in 1725–1728. In 1859 it obtained the status of a parish church (since then it had been a filial church of the parish Köstendorf). The church was destroyed by a fire in 1887 and was rebuilt until 1888.
Other places named Neumarkt:
Neumarkt in der Steiermark, Austria;
Neumarkt im Hausruckkreis, Austria;
Târgu Mureș, Romania (former German name: Neumarkt am Mieresch)

[https://de.wikipedia.org/wiki/Neumarkt_am_Wallersee; https://www.sn.at/wiki/Neumarkt_am_Wallersee; https://de.wikipedia.org/wiki/Pfarrkirche_Neumarkt_am_Wallersee]

---