| | |
| --- | --- |
| ČESKÁ REPUBLIKA | CZECH REPUBLIC |
| Jihočeský kraj | South Bohemia (České Budějovice) region |
| Okres: Jindřichův Hradec | |
map →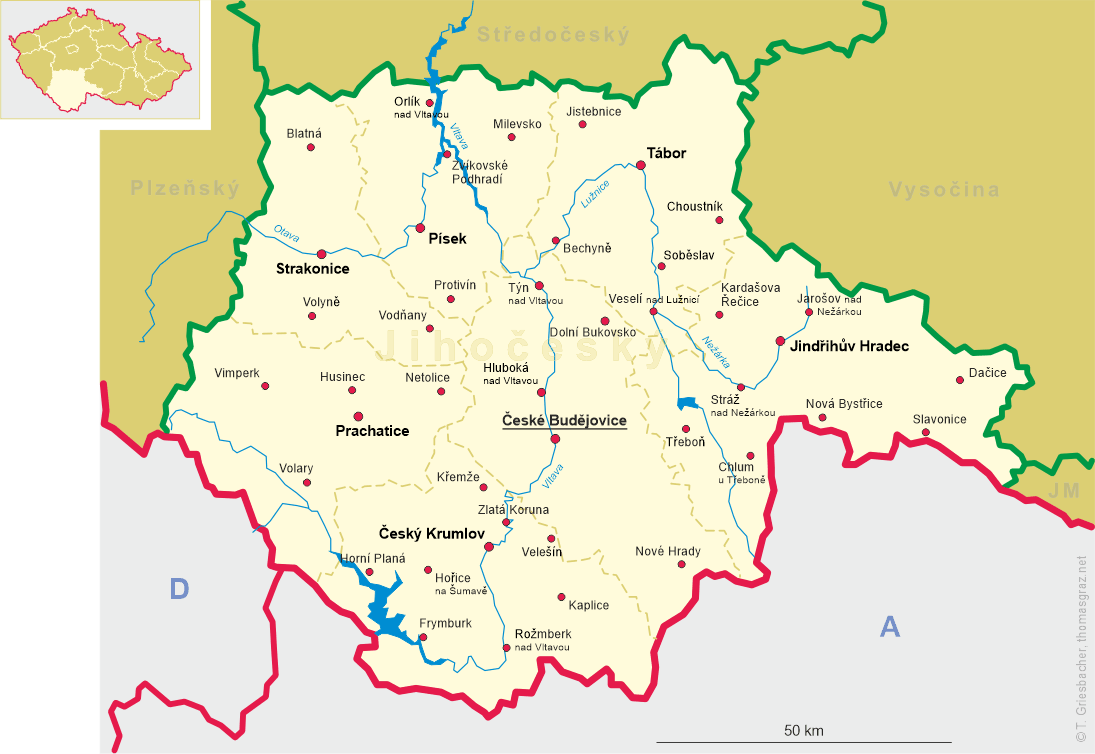 Kardašova Řečice
• de: Kardasch Retschitz
• sr: Кардашова Речица
• ru: Кардашова-Ржечице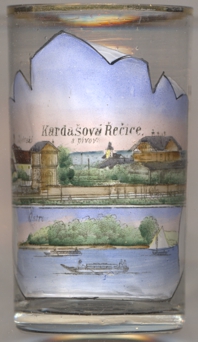 Kardašova Řečice (in German: Kardasch Retschitz) is situated at an elevation of 439 m about 10 km northwest of the district town Jindřichův Hradec and about 40 km northeast of the capital of South Bohemia, České Budějovice. Located amidst a pond landscape on the eponymous river Řečice, the municipality has a population of about 2,200 (2021).
The market village was first mentioned in writing in 1267. The original castle that was destroyed during the Hussite wars. The village was originally only called Řečice; the addition Kardaš, the name of a pond near the city, was added in the 16th century. Kardasch Retschitz obtained the privileges of a town in 1407; the status as a town was confirmed in 1992 by decision of the Czech National Council.
The top left part of the picture on glass no. 4181 shows a view of the

station building (nádraží). The railway line from Veselí nad Lužnicí to Jihlava opened in 1887 as the first part of the Bohemian–Moravian Transversal Railway (Böhmisch-Mährische Transversalbahn), which finally led from Domažlice in western Bohemia near the Bavarian border to what was then the border to the Kingdom of Hungary, the Vlara pass near Uhreské Hradiště. The entire route was completed in 1889 and was operated by the Austrian Imperial-Royal State Railways (k.k. Staatsbahnen, kkStB).
The centre right part of the top picture shows a view of the

brewery (pivovar).

The lower part of the picture is labeled

island (ostrov). It is probably the island in the Velký řečický rybnik (Large Řečice Pond).


[https://de.wikipedia.org/wiki/Karda%C5%A1ova_%C5%98e%C4%8Dice; https://de.wikipedia.org/wiki/Bahnstrecke_Vesel%C3%AD_nad_Lu%C5%BEnic%C3%AD%E2%80%93Jihlava, https://de.wikipedia.org/wiki/B%C3%B6hmisch-M%C3%A4hrische_Transversalbahn]

---