| | |
| --- | --- |
| ČESKÁ REPUBLIKA | CZECH REPUBLIC |
| Vysočina | Highlands (Jihlava) region |
| Okres: Pelhřimov | |
map →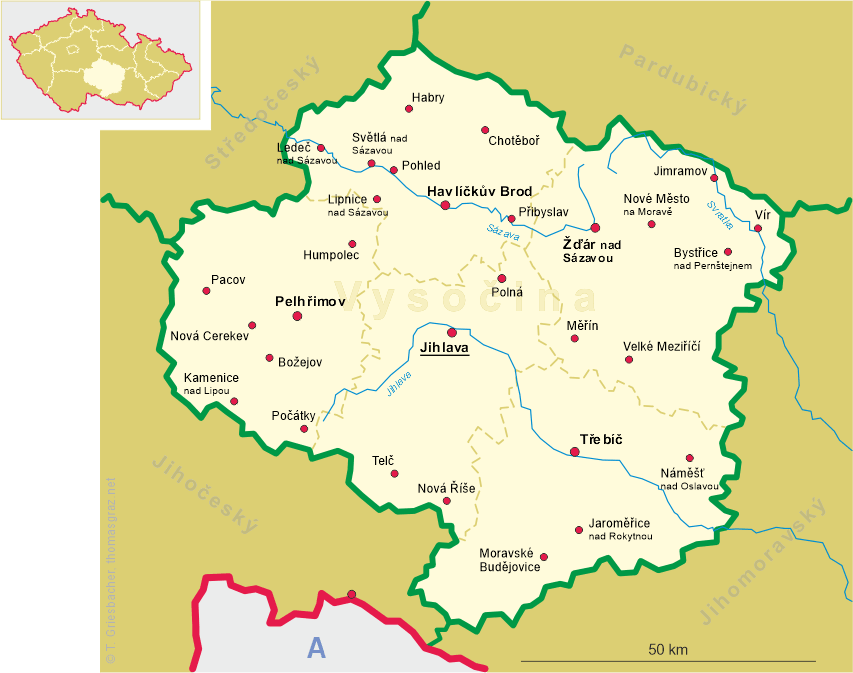 Mnich
• de: Mnich, München
• sr: Мњих
Mnich (in German: Mnich or München) is situated at an elevation of 553 m in the south of the Bohemian-Moravian Highlands on the stream Direnský potok, about 24 km southwest of the district town Pelhřimov and about 47 km southwest of the Vysočina region's capital, Jihlava. The municipality has a population of 405 (2022).
The earliest known written document that mentions Mnich dates from 1352. Since 1391 its church had the status as a parish church. In 1650 the parish was dissolved and was attached to the parish of Deštná. The parish was re-established in 1759. After the end of manorialism in 1848, ;nich was placed in the district Kamenitz (Kamenice nad Lipou). The narrow-gauge railway from Obrataň to Jindřichův Hradec opened in 1906. Since 1971 the parish is again administered by the parish of Deštná.
The

Monument to the Slavic brotherhood and victims of the fight against fascism [left, no. 4258] was created by the sculptor Jan Přerovský in 1946/1947. The monument was renovated in 1973. The memorial to the victims of Nazism and the common grave of fallen Soviet soldiers and Czech and Yugoslav partisans who died in a battle with German SS forces in May 1945, is located in a vast park area and is an important place of worship and a symbol of the solidarity of the Slavic peoples. The labeling of the picture on the glass reads Národní pouť v Mnichu ('National pilgrimage in Mnich'), the picture on the shows a view of the monument flanked by the flags of Czechoslovakia and the Soviet Union.

In German, Mnich was named either Mnich or München. The collection also contains several glasses from the German metropole München (Munich).
[https://de.wikipedia.org/wiki/Mnich, https://cs.wikipedia.org/wiki/Mnich_(okres_Pelh%C5%99imov); https://pamatkovykatalog.cz/pamatnik-slovanskeho-bratrstvi-690670]

---