| | |
| --- | --- |
| SLOVENSKO | SLOVAKIA |
| Nitriansky kraj | Nitra region |
| okres: Nové Zámky | |
map →
Nové Zámky
• hu: Érsekújvár
• de: Neuhäusel
• lv: Nove Zamkai
• pl: Nowe Zamki
• bg, mk, ru, sr, uk: Нове Замки
• be: Нове Замкі, Новэ Замкі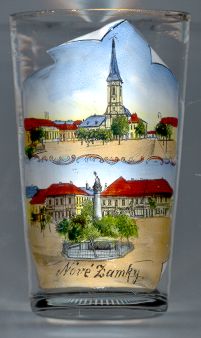 Nové Zámky is situated at an elevation of 121 m on the river Nitra in west Slovakia. The place was first mentioned in a document of 1545 which describes it as a stronghold guarding the country against invading Turks. A new castle (hence the name Nové Zámky) was built a few years later. The Turks conquered Nové Zámky in 1663, but the town was reconquered by the Austrian troops in 1685. The rights of a free town were granted in 1691. During World War II, the town was heavily damaged by three air raids in 1944 and 1945.
The Baroque

Catholic church [top] on the town square was consecrated in 1631 and belonged to the Franciscan monastery which had been finished at the same time. Church and monastery were renovated in 1885 and are listed as cultural monuments of Slovakia. Today, the monastery is used as the local history museum.
The

Trinity column [bottom, centre] was created in 1742 and originally was erected on the main square of Nové Zámky as a sign of gratitude of the inhabitants of the town for having been saved from the plague. The column was later moved to a location near the Franciscan monastery. During the 1990s, the sculptures were removed and replaced by a copy which was set up on the main square near its original location.
Other places named Neuhaus (or Neuhäusel):
Bad Neuhaus, part of Bad Neustadt a. d. Saale, Germany; Dobrna, Slovenia (in German formerly called Doberna or Bad Neuhaus bei Cilli); Jindřichův Hradec, Czech Republic (in German formerly called Neuhaus); Neuhaus a. Inn, Germany;

---