| | |
| --- | --- |
| SLOVENIJA | SLOVENIA |
| regija: Savinjska | |
map →
Dobrna
• de: Doberna, (Bad) Neuhaus (bei Cilli)
• sr: Добрна
Dobrna is situated at an elevation of 436 m about 16 km north of Celje (Cilli) in central Slovenia. The written history of Dobrna goes back to 1403 when its thermal waters (37°C, containing 3.4% carbon dioxide gas) were first mentioned in a document. It is, however, certain that the area had already been inhabited in Celtic times. The Slovene name Dobrna, at first only used for the lower part of the settlement, stems from the Slovene word dob, an oak tree; the upper part of the village had been called Toplice, which means 'spa'. The German name Neuhaus means 'new house'. In 1612 the government of the Austrian duchy of Styria provided financial support for the first development of the spa. After the spa was taken over in 1848 by the counts Hoyos as new owners the spa was enlarged and became quite popular. Among its most famous guests were Louis Napoléon Bonaparte, the third brother of Emperor Napoleon I, who visited Dobrna in 1810 and 1811, and the famous Austria operetta composer Johan Strauss (II) who stayed here in 1853. A new strong thermal spring, named Klementine spring, was found in 1899. With its tradition of more than 600 years as a spa Dobrna is the oldest still operating thermal spa in Slovenia. The municipality of Dobrna was formed in 1998 after its secession from Vojnik (Hohenegg), which itself had seceded from Celje in 1995.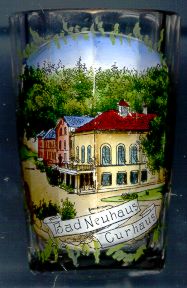 The

spa hotel [left] was created in 1850 by adding one storey to the original construction of 1848. In 1908 the enclosed porch was added. The building still operates as spa hotel (Zdraviliški Dom) today.
The

Hotel Schweizerhof [near left] was built in 1872. Today it operates under the name Hotel Park.
[http://www.terme-dobrna.si/de/uber-uns/geschichte/]
Other places named Neuhaus (or Neuhäusel):
Bad Neuhaus, part of Bad Neustadt a. d. Saale, Germany; Jindřichův Hradec, Czech Republic (in German formerly called Neuhaus); Neuhaus a. Inn, Germany; Nové Zámky, Slovakia (in German formerly called Neuhäusel).

---