| | |
| --- | --- |
| SLOVENSKO | SLOVAKIA |
| Prešovský kraj | Prešov region |
| okres: Poprad | |
map →

Štrbské pleso
• hu: Csorba-tó, Csorbai-tó, Szentiványi Csorba-tó
• lt: Štrbske Plesas
• pl: Szczyrbske plezioro
• de: Tschirmer See, Zirbener See
• ru: Штрбске плесо
• ru: Штрбске-Плесо
• be: Штырбскае плеса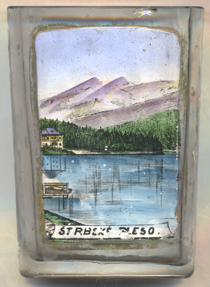 Štrbské pleso is a picturesque mountain lake of glacial origin and a top tourist destination in the High Tatras in northeast Slovakia. It is the second-largest glacial lake on the Slovak side of the High Tatras, after Velké Hincovo pleso. The lake is situated at an elevation of 1,345 metres, its maximum depth is 20 metres. It is fed by underground springs and has no visible outflow stream. Its surface remains frozen for around 155 days per year.
The lake was first mentioned in 1643/1644 in the book Bibliotheca seu Cynosura Peregrinantium by David Fröhlich. Until 1901, the lake was a property of the Szentiványi family; thereafter it belobged to the Hungarian and later the Czechoslovak state. At the end of the 19th century, fish were introduced into the lake. At that time, the winter ice was transported, because of its purity, even to Berlin, Vienna and Budapest. In 1875 the first tourist inn was opened on the southern shore of the lake, and several hotels and restaurants followed in the subsequent years. In 1885, the place was officially recognised as a spa.
Fifteen communities were joined in 1947 to form the new municipality of Vysoké Tatry (High Tatra). With about 5,500 inhabitants and an area of 398 m2 it is one of the largest municipalities of Slovakia. The administrative center is Starý Smokovec. The 15 formerly independent communities were (from west to east, names given in Slovak, Hungarian, German and Polish):

Podbanské (Podbanszkó / Pod Bansko, Untergruben / Podbańsko);
Štrbské Pleso (Csorba-tó / Csorber See, Tschirmersee / Szczyrbskie Jezioro) (in 2007 re-allocated to the municipality of Štrba);
Vyšné Hágy (Felsőhági / Hochhag, Hochhagi / Wyżnie Hagi);
Nová Polianka (Újszéplak / Neuwesterheim / Nowa Polanka);
Tatranská Polianka (Weszterovo / Tátraszéplak, Weszterlak / Tatrawesterheim, Westerheim / Tatrzańska Polanka, Westerów);
Tatranské Zruby (Tátraotthon / Tatraheim / Tatrzańskie Zręby);
Nový Smokovec (Újtátrafüred / Neuschmecks / Nowy Smokowiec);
Starý Smokovec (Tátrafüred, Ótátrafüred / Altschmecks / Stary Smokowiec);
Horný Smokovec (Felsőtátrafüred / Oberschmecks / Górny Smokowiec);
Dolný Smokovec (Alsótátrafüred / Unterschmecks / Dolny Smokowiec);
Tatranská Lesná (Tátraerdőfalva / Tatrawalddorf / Tatrzańska Leśna);
Tatranská Lomnica (Tátralomnic / Tatralomnitz / Łomnica Tatrzańska);
Tatranské Matliare (Matlárháza / Matlarenau / Matlary);
Kežmarské Žľaby (Késmárki Itató / Käsmarker Tränke / Kieżmarskie Złoby);
Tatranská Kotlina (Tátra-Barlangliget / Tatrahöhlenhain / Tatrzańskie Kotliny).
[https://en.wikipedia.org/wiki/Štrbské_pleso, https://de.wikipedia.org/wiki/Štrbské_pleso; https://books.google.cz/books?id=Qa5mmx8z60sC&pg=PA267&lpg=PA267&dq=Bibliotheca+seu+Cynosura+Peregrinantium+David+Fr%C3%B6hlich&source=bl&ots=5xPeS56sF4&sig=I6qJxXOIyuqtouv7JPCdj8TOIrk&hl=de&sa=X&ved=0ahUKEwi0yM2Koq7RAhVDWRoKHZpIAuIQ6AEIGzAA#v=onepage&q=Bibliotheca%20seu%20Cynosura%20Peregrinantium%20David%20Fr%C3%B6hlich&f=false]

---