If you came to this page directly and do not see a navigation frame on top, please go to the home page.
| | |
| --- | --- |
| ČESKÁ REPUBLIKA | CZECH REPUBLIC |
| Vysočina | Highlands (Jihlava) region |
| Okres: Žďár nad Sázavou | |
map →
Nové Město na Moravě
• de: Neustadtl
• ru: Нове-Место-на-Мораве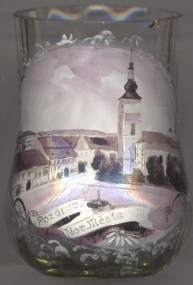 Nové Město na Moravě (German: Neustadtl) is situated at an elevation of 594 m in the southern foothills of the Žďárské vrchy (Žďár mountains), about 10 km east of the former district town Žďár nad Sázavou. The municipality has a population of about 10,100 (2017).
The place was founded in 1250 by Boček of Jaroslavice und Zbraslav who had also founded the monastery of Žďár nad Sázavou. The first mention of Bo&ccacron;kanov dates from 1267 and is found in a document of the bishops of Olomouc. A dcument of 1293 is the first to refer to the place as nova civitas, 'new town', which becam the origin of the modern name both in Czech (Nové Město) and in German (Neustadtl). In 1499 the town was granted the privilege of holding two annual markets. The town flourished especially during the Renaissance period. After the abolition of patrimonialism, Nové Město/Neustadtl became an independent municipality and also became the seat of an administrative and judicial district. In 1906 the Czech name Nové Město was given the affix na Moravě in order to better distinguish the town from Uničov (German: Mährisch-Neustadt). In 1949 the district was dissolved an incorporated into the district Žďár nad Sázavou.
The Catholic

parish church St. Kunigunde [left] dates back to the late 14th century. The Gothic presbytery dates from this period. In the early 20th century, the church was decorated with sgraffiti, both inside and outside, by the local artist Karel Němec (1879–1960).
Further places called Neustadt (or similar), of which glasses are in this collection, are:
in Austria: Wiener Neustadt,
in Germany: Bad Neustadt a. d. Saale, Neustadt an der Orla, Neustadt an der Weinstraße, Neustadt in Holstein and Neustadt in Sachsen;
in Hungary: Sátoraljaújhely (previous name in German: Neustadt am Zeltberg);
in Poland: Prudnik (previous names in German: Neustadt in Oberschlesien or Polnisch Neustadt).

[https://de.wikipedia.org/wiki/Nové_Město_na_Moravě; http://www.nmnm.eu/de/denkmalschutzgebiet-nove-mesto-na-morave.html, http://www.region-vysocina.cz/temata/temata/100-let-vysociny/osobnosti/karel-nemec]

---