Винер Нојштат
Wiener Neustadt is situated at an elevation of 265 m in the south-east of the Steinfeld plain in Lower Austria. The town was founded in 1192 (Neuenstat) by the Babenberg Duke Leopold V as a fortified place to guard the border to Hungary using parts of the ransom that he obtained after he had captured King Richard I (the Lion-Hearted) of England. During the 15th century, Wiener Neustadt was the residence of Emperor Friedrich III. Friedrich's eldest son, the later Emperor Maximilian I was born here in 1459. Maximilian was also buried here in 1519 in the St. George's chapel of the castle. In 1469, Wiener Neustadt became the seat of a bishop and remained so until 1785 when the seat of the diocese was transferred to the city of Sankt Pölten. After two years of siege, the Hungarian King Matthias Corvinus conquered the city in 1487. It took three years until Maximilian could regain the power. During the 16th century, the town lost most of its importance as the imperial residence was not any more located here. One of the most influencial factors for the further development was the foundation of the military academy founded by Maria Theresia of Austria in 1751/52. Situated in the former castle it was used to train the officers of the Austian armies ever since. During World War II, Wiener Neustadt was largely destroyed as it was the seat of many industries important for the war (airplanes, locomotives, and even A-4 rockets). The reconstruction of the town after the war was nearly completed in 1955.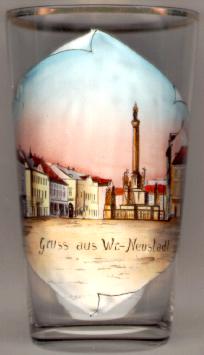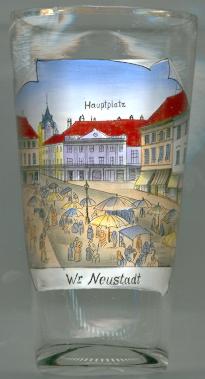 The

Mariensäule (Lady Column) [left] on the Hauptplatz (Main Square) was built in 1679 to commemorate two weddings that had taken place in Wiener Neustadt the year before. Two sisters of Emperor Leopold I, Archduchess Eleonora Maria Josepha and Archduchess Maria Anna Josepha, were married to Duke Karl V of Lorraine and Hereditary Prince Johann Wilhelm of Pfalz-Neuburg. After the end of the times of the plague in 1714, the Baroque balustrade with the six patron saints against the plague (Charles Borromeus, Sebastian, Rochus, Benno, Francis Xaver and Rosalia) was added.
The

Town Hall [right] was first mentioned in 1401. The original building in Gothic style was rebuilt in Renaissance style in the late 16th and early 17th century. The tower of 1590 received a neogothic roof after a large fire in 1834. At the same time the façade of the building was reshaped in Neoclassicist style. The most important treasure guarded in the town hall is the "Corvinusbecher", a splendorous gilded and enamelled silver cup of the late 15th century probably donated to the city by King Matthias Corvinus.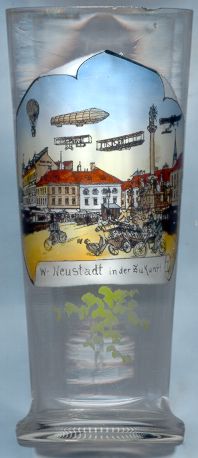 Glass no.2041 [near left] shows a view of the Hauptplatz (Main Square) "in the future".
(Further places called Neustadt, of which glasses are in this collection, are:
Bad Neustadt a. d. Saale, Neustadt an der Weinstraße, Neustadt in Holstein and Neustadt in Sachsen)

---