If you came to this page directly and do not see a navigation frame on top, please go to the home page.
| | |
| --- | --- |
| FRANCE | FRANCE |
| région: Grand Est | |
| département: 67, Bas-Rhin | |
map →
Haguenau
• de: Hagenau
• lv: Hāgenava
• el: Αγκνώ
• mk, sr, uk: Агено
• ru: Агено, Агно, Хагенау

Haguenau is situated on the river Moder in the northern part of the région Grand Est of northeastern France. Its history goes back to a castle, which was built in 1115 on an island in the river by Friedrich of Hohenstaufen (called-the One-Eyed), Duke of Alsace and of Swabia. The oldest mentions of Hagenaw and Hagenowe date from 1123 and 1143. Emperor Friedrich I Barbarossa raised Haguenau to the status of a market town in 1164, and rebuilt and enlarged the castle in 1172. In 1193, King Richard I of England (the Lion-Hearted) had to appear here before Emperor Heinrich I and was condemned to raise a ransom of 100,000 mark silver, half of which was handed over to Duke Leopold V of Austria who had captured Richard. In 1225, Haguenau obtained the status of an Imperial town, immediate to the emperor. In 1354, the town became the head of the Dekapolis, a union of ten towns of the region (Colmar, Haguenau/Hagenau, Kaysersberg, Landau in der Pfalz (since 1521), Mulhouse/Mülhausen (until 1515), Munster/Münster im Elsass, Obernai/Oberehnheim, Rosheim, Sélestat/Schlettstadt, Turckheim/Türkheim, Wissembourg/Weißenburg). During the Thirty Years' War, Haguenau was looted by Imperial troops in 1622, occupied by Swedish troops in 1634, and finally was put under the protection of King Louis XIV of France in 1634. After the Westfalian Peace in 1648, Haguenau became part of France. The French disarmed the town and destroyed its fortifications and the old imperial residence. Out of its stones, marshal Vauban had a new fortress built, the Fort Louis. Ever since then, one of the functions of the town was that of a garrison town. In 1679 (Treaty of Nijmegen) Haguenau obtained the rank of a Royal French town. In 1871 the Alsace with Haguenau became part of the German Empire, but had to be returned to France after World War I in 1919. Only during World War II it was occupied by Germany again between 1940 and 1944/45.
The pictures on glass no. 1252 [left] show a military shooting and training area near Haguenau around 1900.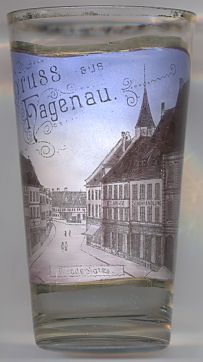 The picture on glass no. 2107 [near left] shows a view of the square

Place d'Armes (former German name: Paradeplatz).
The second and third building from the right bear the inscription "E. Langer Schuhhandlung" ('E. Langer Shoe Shop').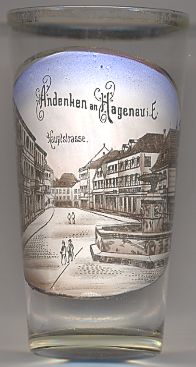 The picture on glass no. 2521 [near left] shows a view of the street

Grand'Rue (former German name: Hauptstraße).
The

Fontaine Saint-Georges [foreground right], located at he corner of Grand'Rue and rue St.-Georges, was rebuilt in the 2nd half of the 18th century. A central pillar in neo-Gothic style was added around the 2nd quarter of the 19th century, but was replaced by a fountain bowl in 1885. The fountain pool was renewed in the late 20th century. The fountain was listed as a historic monument in 1939.
[source: http://www.patrimoine-de-france.org/richesses-1-159-2605-M61371-6782.html]

---